Sustainability
We manage water systems sustainably and reduce carbon/water footprints to optimise water as a resource.  
With current rates of consumption we will soon need three Earths instead of one. For our customers, tomorrow's environmental, social and economic challenges will require action and innovation today.
Reducing water usage
Rethink Water
Instead of throwing things away when they've served their purpose, we believe everything that we buy, use or consume should be recycled or converted into energy. We support a circular economy where water is reused as standard, by-products from water treatment can be used for energy generation or crop fertilisation, products are designed to last longer, and sustainability is an integral part of our lives. Everything we do works towards making this vision a reality for our customers.
We're focused on supporting our customers to rethink water. Our technologies enable us to treat all types of wastewater, transforming waste back into a valuable resource, reducing costs associated with water use and lessening the impact industry has on the environment.
Take a fresh look at how water is used; from being a considered a waste and a cost, to being a resource or a source of energy, the way you think about water needs to be rethought.
Water Saving Tools
Veolia Water Technologies understands your water is a critical part of your manufacturing process. Whether you are experienced in this area or you are not sure where to start, our highly experienced team can help. We are committed to delivering a sustainable service and we will work with you to optimise water quality and capacity, whilst reducing water and energy wastage, to create a sustainable operational environment.
We help optimise water capacity and recovery whilst reducing costs, water usage and waste.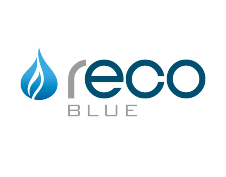 RecoBLUE – Older reverse osmosis systems tend to generate high volumes of wastewater – typically 25% of water supplied goes down the drain. We can help you calculate your potential water savings and cost reductions.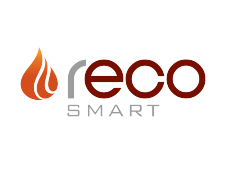 RecoSMART – Our experts help you calculate potential reductions in water, chemical and energy costs for boiler feed water systems. Boiler blowdown consists of water, conditioning chemicals and heat energy, all of which you pay for. Contact us and see how much you could save.
High Recovery Reverse Osmosis Systems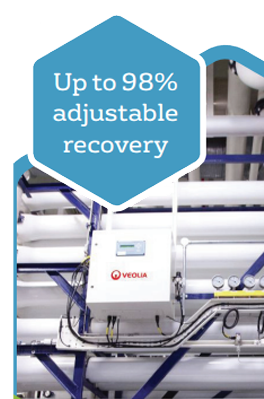 Adjustable recovery - up to 98%
Veolia is proud to offer a Reco inspired high recovery reverse osmosis system, ideal for extracting high purity water from industrial, brackish and wastewater sources.
With sustainability at the heart of this latest technology, our modular configuration offers the highest recovery available today, guaranteed; reducing concentrated brine by 50% to 75% and energy consumption by up to 35%.
The result is significant savings that offset investment cost.
What you can benefit from:
Reduced wastewater
Reduced energy consumption
Greater fouling resistance
Circular Economy
We have already made 20% of our business circular and we aim to double that by 2020. We see a future where waste is turned back into resources that power our homes and industry. In smart societies of the future, production and consumption go hand-in-hand, and one person's waste will become another's resource. We call this the circular economy.
Everything we do contributes to making the circular economy a reality for our customers.
In the Community
We aim to maximise the social value we create as an employer and as a result of our infrastructure projects. As a result of our forward-thinking approach to sustainability we were awarded Responsible Business of the Year 2016 by Business in the Community (BITC).
Discover more about us...