Mobile Water Services
Rental water treatment units for emergencies or planned works
Veolia's Mobile Water Services is the leading provider of mobile water treatment technologies for industrial sites. Our rental units supply water 24/7 during emergencies or planned works, so your operations can continue without a hitch.
From clarification to desalinisation, you can choose from a wide range of cost-effective technologies with flow rates from 10m3 to 500m3 per hour. Our large, flexible fleet means we can deliver mobile plants wherever and whenever you need them, either on a short- or longer-term basis.
For your peace of mind, our highly experienced team meet and exceed Health & Safety standards and all services are quality and environmentally assured.
Emergency water treatment
Mobile water treatment units are ideal for emergencies or unexpected situations, such as plant failure or severe weather conditions. By immediately providing a temporary water supply, they ensure your operations can carry on without costly downtime or production interruptions.
Our emergency water treatment systems are pre-packaged on a trailer, skid or container for rapid response, and 'plug-and-play' connections allow quick and easy set-up by our engineers.
Got an emergency? Call us now: 01782 590800
Mobile water treatment for planned projects
Mobile water services are a great solution during planned maintenance or refurbishment projects. Available on open-ended contracts, our adaptable and flexible systems allow your production cycle to continue with minimal downtime.
Our rental units can also help commission new assets at engineering houses, ensuring your project is delivered on time and within budget.
Mobile water treatment for multi-year needs
If you need a continuous treated water supply for a longer multi-year period, our mobile rental units are a cost-effective choice. They're ideal in situations where it's impossible or illogical to invest in costly fixed assets, such as CAPEX shortages or uncertain production lifecycles.
Our mobile water services can be configured to meet your exact needs, and the flexible open-ended contracts are easily extended to up to 7 years.
Find out more about Mobile Water Services below.
Our Flexible Mobile Water Services
The industries we serve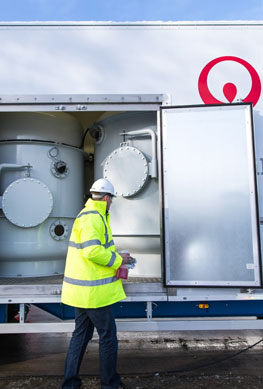 We are a leading provider of rental water treatment services for a wide variety of industries:
Oil and Gas
Power
Petrochemical and Chemical
Engineering Companies (EPCs)
Pulp and Paper
Food and Beverage
Automotive
Mining
Metals
Pharmaceutical
Why use Mobile Water Services?
Our services allow you to have a reliable and secure source of treated water 24/7, 365 days per year, to maintain continuity of supply of treated water to your core operations. Our proven track record for rapid response and delivering service excellence is unrivalled and enables our customers to maintain production operations.
Speed of response and on-time delivery
The quality and quantity of treated water is guaranteed
Full technical and operational support throughout the rental agreement
'Hands off Maintenance' — no spares and inventory management
Treated water volume can be increased or decreased at any time
Reliable and secure service backed by our mobile fleet
Incorporates the latest technology
Excellent health and safety record
Safe handling of chemicals and assets
24/7, anytime and anywhere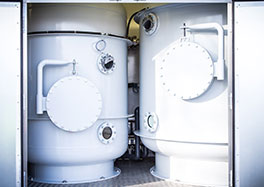 We have a large and flexible fleet, a wide technology portfolio and local technical resources to ensure availability at anytime and anywhere. We have asset depots including regeneration facilities positioned across Europe, therefore enabling us to quickly respond to our customers' needs, reacting to both Emergency, Planned, and Multi-Year requirements for treated water.
Emergency Hire
01782590800
Have an emergency? Call us now!